SAFETY SIGNS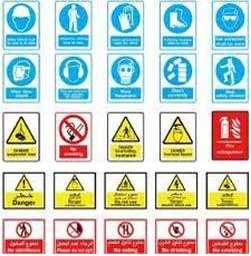 Considering the inefficiency of normal emergency Safety Signs, we offer our clients a fascinating range of safety signs. Complying with international quality standards, these signs are long life. We are offering custom designed signs as per customer's need.
SIGNAGE MATERIALS:
1. Aluminium sheet (2 mm thick) or ACP sheet (3 mm).
2. Retro reflective sheeting (Avery Dennison / 3M):

a. High Intensity Grade Sheeting: This sheeting is encapsulated lens type consisting of spherical glass lens, elements adhered to a synthetic resin and encapsulated by a flexible, transparent waterproof plastic has a smooth surface.
b. Engineering Grade Sheeting: This sheeting is enclosed lens type consisting of microscopic lens elements embedded beneath the surface of a smooth, flexible, transparent, water-proof plastic, resulting in a non-exposed lens optical reflecting system.

3. Back frame made by ISA 40 x 40 x 5 mm or as per approved drawing.
4. Vertical Post: Generally used 65 NM MS pipe or ISA 76 x 76 x 6 mm or as per approved drawing.
5. Concrete: M20 grade (mix 1:2:4)
6. Reinforcing Steel: According to IS: 1786 or as per drawing.
7. Bolts, Nuts, Washers: High strength bolts shall confirm to IS: 1367 whereas precision bolts, nuts etc. shall confirm to IS: 1364 or as per drawing.
8. Plates and supports: Plates and support section for the signposts shall confirm to IS: 226 and IS: 2062 or as per drawing.
9. Message/Borders: The message (legends, letters, numerals, etc.) and boarders is either screen-printed or cut-outs.
Range of Sign Products:
1. Highway Signboards.
2. Toll Plaza Boards.
3. Cautionary Signboards.
4. Mandatory Signboards.
5. Regulatory Signboards.
6. Delineator Signboards.
7. No Entry Signboards.
8. Traffic safety caution signboards.
9. Weather resistant Signboards.
10. Corporate Road Signs.
11. Hazard Markers (one / two way) & Object Markers.
12. Cluster of Red Reflector.
13. Road Studs (3M / Avery Dennison), & Bollards etc.